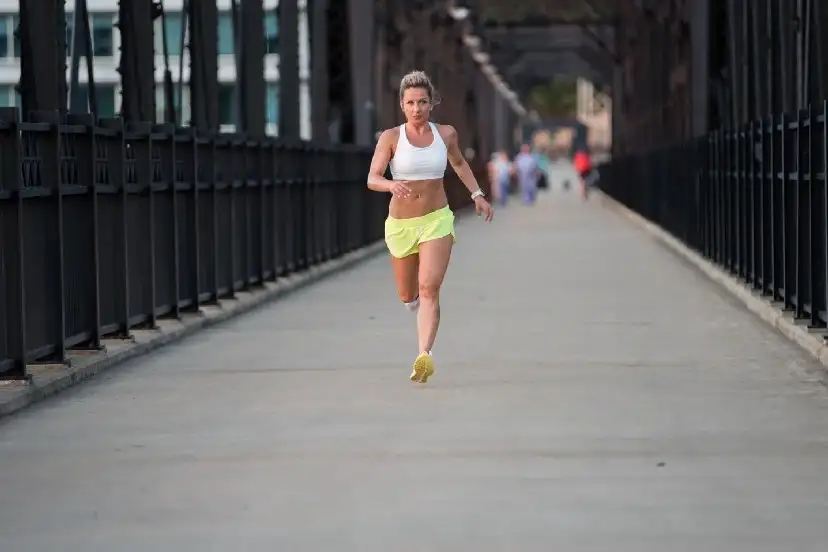 If running a race has been a goal of yours, let's make that a reality! This week, I am launching my Runner's Wall Training Program to get you ready for your next race. If you're ready to feel amazing and reach your goal to run a race this fall, here are 7 easy steps to help you feel strong and healthy!
1. Know Your Why
Before you sign up for your next (or first) race, it's important to have a clear why.
Are you looking for a sense of community?

Do you want some accountability?

Do you want to learn about running gear and how it can improve your race?
I have met so many people as a fitness coach that want to run a race for a variety of reasons! Some people are looking for more energy. Some want to feel more confident or be able to run around with their kids or grandkids.
When you know what your why is, write it down! Use that "why" to drive you and keep you going when you feel like giving up.
2. Sign Up For A Race
It doesn't matter what type of race you are looking for. Whether it is a 5k, 10k, or half or full marathon, take the first big step and sign up!
Don't wait until you think you are "ready," because that day will never come!
If you want to reach your goal to run a race, you need to take small steps every single day. And the first step is to sign up!
The most important part about signing up for a race is to give yourself an end date. My suggestion is to plan 3 or 4 months ahead to give yourself plenty of time to prepare.
Even if this is your first race, those few months will allow you the time to become strong and get through your race with a great mindset and injury-free.
And if you want to join me in the Runner's Wall Group Training Program, you're in luck! One of the best parts about my program is that you can run your race anywhere, but still train virtually alongside others with similar running goals!
3. Get a Coach
There is something about having a coach and signing up for a race that adds a spark to your entire life!
Cleveland Clinic talks about the importance of practicing and planning before you run a race. They mention tactics such as running a few times a week, determining your fueling strategies, and experimenting with running clothes and gear… But what if you could have someone by your side to create those plans for you and (virtually) train alongside you during your journey?
In my Runner's Wall program, my goal is to create an individual plan for you! We talk about your personal running plan and which distance would be best based on where you are at currently.
I also provide nutrition training and support so you can reach your goals!
It's important to choose a race that makes sense for you, and it's just as important to have a training program that is manageable around your schedule. Having a dedicated running coach can provide these benefits to help you run a race!
Whether it's my program or another, make sure you find a plan that works for you… And don't wait to get started!
4. Set a Goal
What do you want to accomplish with this race?
Do you want to finish?

Are you looking to run a race and have fun?

Do you want to take pictures along your journey?

Do you want to improve your race time?
My goal for you is to help you get to the starting line and finish line strong and healthy. But your goals can be more specific! Whether it's your first race or your 10th, set some goals to guide you along the way!
5. Show Up No Matter What
When you're ready to run a race, you need to show up! This program isn't all day, every day, but it does take a certain level of commitment to reach your goals.
This is why we create a system that is manageable for you! The plan will work if you work the plan.
You're going to be tired. There are going to be tough times. But the magic is in doing hard things!
You don't need to take big jumps. Instead, we work gradually to get you to where you want to be. And if life happens and you get sick or can't run, I'll help you work through it!
6. Have Fun!
One of the biggest parts of my Runner's Wall Program is the mindset factor. We work on our mindset to make running fun!
I teach you mental tips and tricks to make your run enjoyable… because if you want to reach your goals, you should be able to have fun while doing it!
This is also why there is a group factor to the program. We meet on zoom a few times each month to talk about our struggles and successes, even though everyone has their own individual plans! We honor and celebrate the hard stuff!
7. Take Time To Celebrate
This leads me to the last step if you want to run a race…
Celebrate!
Celebrate every single step of the way. Every time you go a little further or push yourself or get a little stronger.
When you celebrate these steps, you are telling the brain that you are capable of more, which helps fuel you forward!
Running is actually more mental than physical. I can give you the tools to stay mentally strong so you can be physically strong!
How To Run a Race
If these steps have resonated with you, I want you to join me in the Runner's Wall Group Program!
You get to run your own race in your own town, but still have dedicated, strategic guidance and a personal plan to help you reach your goals. We meet on zoom every other week and you also get a supportive group to reach out to when you need help or (of course) want to celebrate!
If you're not quite ready to run a race, why not join our free community? And don't forget to subscribe to the blog for more life and fitness tips!