As you are starting your exercise journey, you may wonder what the best workout plan is! But guess what? The best workout plan for beginners is the one that you can do! Let's break down this idea and why 20 minutes is better than 0 when it comes to working out.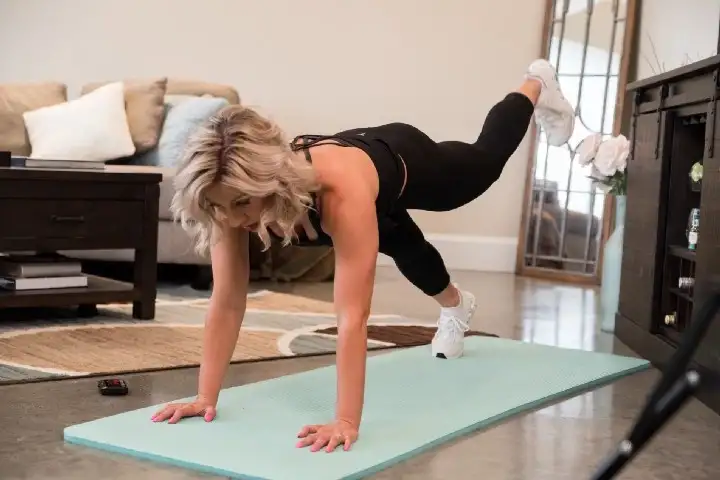 Creating a Daily Routine
One of the biggest struggles for people who want to start exercising is being consistent. It is so easy to skip a day because you aren't feeling 100% or have other things to do.
This is why creating a daily routine is so important! For me, this means I have some non-negotiables. These allow me to have more energy throughout my day and give me something to focus on!
Creating a daily routine is also all about building positive habits. You can grab my free 30-day habit tracker to help you create a routine and measure your progress along the way!
If starting a workout plan for beginners is your goal, make sure that daily exercise is a part of your routine!
What to Do When Your Workout Plan for Beginners is Off
Let's say you have an off day… because trust me, everyone does!
For me, traveling tends to throw off my whole routine. And I have been traveling a lot lately!
When we travel, things like nutrition, exercise, and your normal routine tend to get thrown off. Even in your typical life, you will have days where nothing seems to go as planned. So what can you do?
Let's say you typically set aside one hour each day for exercise and personal time. Your daily routine is set so you have that one hour to really connect with yourself! But when your routine is off, it can make it really hard to fit that one hour in.
This is where the idea that 20 minutes is better than 0 comes in!
If you can break down that one hour into 20-minute increments, it can make your workout plan for beginners much more manageable!
For example, let's look at my day. After traveling for the past month, I was finally home! But that travel took a ton out of me. So I decided to listen to my body and sleep a little longer than normal.
But, when I got up, I did a 20-minute Peloton workout. This may not have been as long as my normal workout, but it allowed me to get in some time to sweat and move my body!
Later that day, I realized that I needed a nap to reset. One of my non-negotiables for my daily routine is to give myself time to nap each day. So I took a 20-minute nap to help me reset my brain and body.
And finally, I ended my day by spending some time with my husband, cooking a healthy meal together, and going on a 20-minute walk after dinner.
I was able to still have one whole hour devoted to my workout and personal time, even though it was spread out throughout the day!
How To Apply This To Your Workout Plan For Beginners
You can do the same thing during your day!
If working out for an hour straight doesn't work for you, you can easily break it up into manageable chunks. It is better to exercise for 20 minutes than to skip the day entirely!
But another huge part of finding a workout for beginners is having some accountability. This will help you get in those 20-minute increments instead of letting yourself skip it because you don't feel like you can that day.
This is why I have a Group Fitness Program! It is perfect for all levels, whether you need a workout plan for beginners or want to step up your routine. In this program, you get live, 30-minute workouts 3 times a week that are also recorded so you can watch them whenever you have time! On top of that, you get me as your personal cheerleader and a group of supportive women to encourage you to keep going on your workout journey.
I would love for you to join us on your fitness journey. I know you can reach your goals and feel amazing through daily exercise!
Make sure you subscribe to the blog for more life and fitness tips!